Cami Harris of the Ovid-Elsie Chapter is the 2017 FFA Sheep Proficiency Award winner.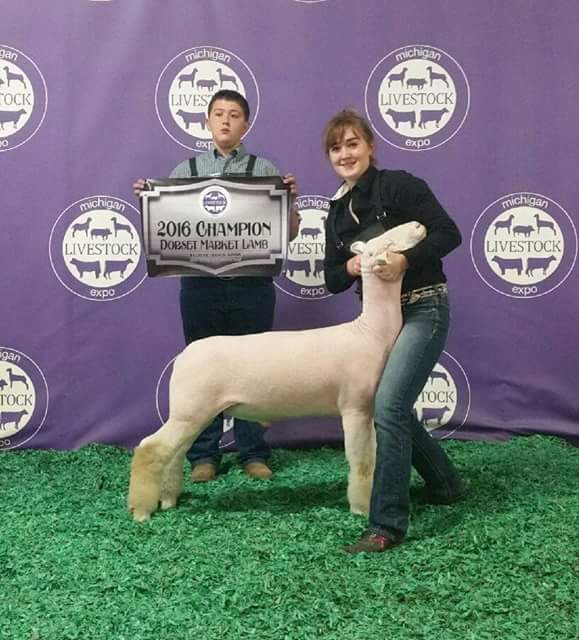 Click here for a review of her accomplishments.
  
 

 State 4-H Sheep Science Award – Junior Winner
Hannah Vincent – Monroe County

Hannah Vincent has been in 4-H for nine years. She began when she was seven years old. Hannah loves being in 4-H and enjoys the experiences she has encountered over the years. She stays very active in this program. Hannah is the president of her 4-H club, Rockin' Ranchers, and she is on the Youth Leadership board, Small Animal Board, where she represents rabbits, vice president for New Horizons. Hannah is a part of the Junior Livestock Board where she is representing sheep.

Hannah's favorite part of the sheep project is caring for her lambs from start to finish and being able to learn new things about them, every year. She also loves to be able to meet new people that share the same interests as her.

Hannah plans to remain involved with her sheep project, by starting to breed her own lambs on her farm. She also looks forward to continuing to mentor younger members in her 4-H club.

4-H and FFA have benefited Hannah's success with her projects immensely. Through her participation in 4-H she has been able to meet new people and share information and tips about raising and showing sheep. These experiences have helped her to also become a better showman and mentor. Through her participation in the FFA she has been able to see the birth of lambs and help teach elementary students about the sheep project. Both organizations have benefitted Hannah's future by helping her earn valuable life skills and becoming an overall, better person.

State 4-H Sheep Science Award – Senior Winner
Chase Benham – Lenawee County

Chase Benham began his career showing Quarter Horses at the age of six. Since his earliest days, he has always had a passion for expanding his horizons, while also leaving a positive impact on the people surrounding him. A few short years later, he stumbled upon the sheep project and immediately devoted himself to this project. As a first-generation sheep showman, he grew under the mentorship of various farmers and showmen across the state of Michigan. He quickly became involved in showing the MCLA circuit, MLE, and the North American International Livestock Exposition. Through these experiences, Chase has had the opportunity to connect with many members of the Sheep Industry, and further advance his knowledge of the Sheep Project

As he grew older, Chase began to see great value in mentorship. To him it is not only an opportunity to help sustain the industry by gaining youth involvement, but also to pass on various values central to the 4-H program to develop future leaders. He has become involved as the president of his 4-H club and a member of the State Youth Leadership Council. Through these organizations, he has had the opportunity to not only impact youth currently involved in the Sheep Project, but also to his own personal development.

Chase believes that 4-H has equipped him with numerous life skills that have not only helped him succeed in his sheep project, but also in his future endeavors. Through organizations within 4-H such as the State Youth Leadership Council, Chase has been able to utilize the 4-H values and benefit numerous communities and organizations. The culmination of his unique experiences and opportunities has shaped him into the person he is today. As he begins his Freshman year and college, he plans to continue showing and instilling invaluable life skills in youth through mentorship.