The Ludlam Family
Mike and Heather Ludlam having been raising sheep for over twenty-five years on their farm, Windswept Farms, LLC in Hopkins, Michiga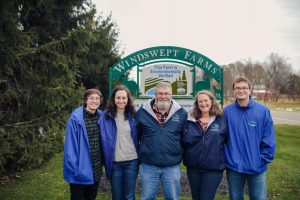 n. Mike is a retired DNR Conservation Officer and is now serving as the Allegan County MAEAP Technician. Heather is a veterinarian and operates her own mixed practice. They have three children, Samantha, Alexander, and Joseph who have all been involved with sheep production throughout the years.
The Ludlams got their start in the sheep industry after the third day they moved into their current farm. Heather was an associate veterinarian at the time and while on a farm call, was given a Shetland ram. Soon For about twenty years the Ludlam family raised Shetland sheep exclusively and showed them across the nation. In 2011, a flock of club lambs and a flock of commercial white-face cross ewes were started on the farm as well. Today, the commercial flock has grown to approximately 150 ewes, and both the club and Shetland flocks have been significantly condensed.
Currently, the Ludlam family is also involved in a project, called the GM1 Project, in which they are raising sheep for medical research. The sheep they are raising as a part of this project have a condition called gangliosidosis in which they overproduce a lipid in the brain. This lipid can be harvested and use for the treatment of diseases such as Huntington's and Alzheimer's. The project they are working with is called The Shepherd's Gift, which is using this technology as a potential treatment for Huntington's.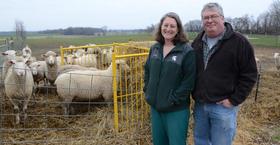 Both Mike and Heather have held various leadership positions in the sheep industry throughout the years. Mike served as President of the North American Shetland Sheepbreeders Association for five years, and Heather as Vice President for three. Today, both Mike and Heather serve as members of the Michigan Sheep Producers Association small flock committee, and Heather is completing her second term on the Board of Directors. As small producers and first-generation sheep producers, the Ludlam family also recognizes the value of mentors. Mike and Heather are both more than willing to share their experiences and expertise with other young and up and coming producers; contact Heather at drhludlam@gmail.com if you are interested.
The Bronkema Family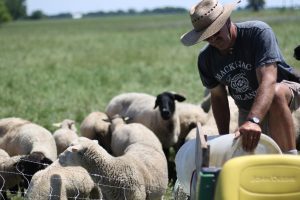 Shady Side Farm is home to Mike and Lona Bronkema in Holland, Michigan. The Bronkemas have been farming part-time since 1988, and full-time since 1996. Together they have also raised four children, who are now grown.
Shady Side Farm takes pride in farming biologically and paying careful attention to the soil and its health. Since 2010, their crops have been certified organic through Global Organic Alliance. Their Belted Galloway cattle are also certified organic, and they have been toying with the idea of certifying their lambs in the near future as well. They have also been certified through the Michigan Agriculture Environmental Assurance Program (MAEAP) since the programs beginning.
The sheep program at Shady Side Farm consists of a few Suffolk ewes and around eighty Polypay ewes. The wool from their sheep is processed at a Michigan mill and is sold as yarn, roving for spinning, and bedding. They sell these goods directly to crafters and use some of the wool for their own crafting as well. Mike is famous for being the "Sock Guy," as he has an antique sock knitting machine that he uses to make brightly colored wool socks for sale.
The majority of the Shady Side Farm lambs are marketed directly to customers as grass-fed freezer lambs. The rest are shipped to an auction or lamb pool or processed and sold with their other goods at local farmers' markets. Multi-species and rotational grazing practices are an important aspect of their production. The Bronkemas feel that their multiple groups of sheep and cattle are not separate enterprises but are intertwined to capitalize on the soil health building abilities that their livestock bring to the table.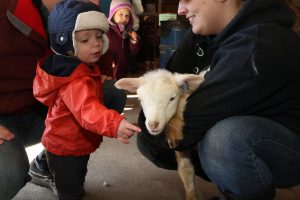 The Brokema family is passionate about informing consumers about the agriculture industry and how their animals are cared for. Each year, their family hosts a shearing day open house, which although was once small, now attracts a crowd of nearly four hundred people. In early March, families come and watch the shearing and skirting, pet and hold early lambs, and just hang out in the barn. They also have a small farm store where visitors can watch artists demonstrate spinning, felting, and other fiber arts, and buy farm products, including wool items.
To learn more about the Shady Side farm and Bronkema family, you can visit their website, Etsy store, or Instagram pages.