The Alberda Family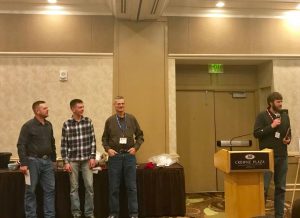 The Alberda Family has been in the sheep business since 1977 when Pete got into the sheep business. Their farm, Twin Maple Farm LLC, is in Zeeland, Michigan. It is primarily operated by Pete, Ryan, and Jason with the help of Ryan and Jason's children.  Along with helping on the farm, Ryan's son Elliot, and Jason's daughter's Dana, and Eliza. Jason is looking forward to having his daughter Cora start her flock this year.
The Alberdas had always maintained a small flock of sheep including some registered Polled Dorsets and Polypay sheep. In addition to sheep, they also maintain and harvest around 20 acres of hay, 20 acres of permanent pasture, along with around 85 acres of corn, soybeans, and wheat.
In 2002, the Alberdas purchased four registered Dorset ewe lambs and a ram from Dave Meeuwse.  Their flock has been closed ever since, except for the occasional purchase of outside rams. Shortly after the began lambing multiple groups of ewes and using Estimated Breeding Values (EBVs). BY 2007, they joined the National Sheep Improvement Program. Since, they have been utilizing the program to help make selection decisions for their own sheep as well as when purchasing rams.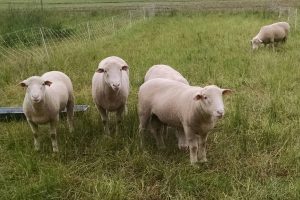 The Alberda family has sold breeding stock throughout Michigan and the Midwest, through on-farm sales as well as through the NSIP sales in Iowa and Ohio. This year they are planning to be lambing out just under 100 ewes. Most recently, the Alberda family has been named as the 2019 Michigan Sheep Producers Association Purebred Producers of the Year.
Wendy Villareal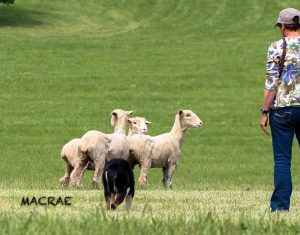 Wendy Villarreal first got interested in sheep through her love of border collies.  She first witnessed a sheepdog trial on a beautiful historic farm in Virginia called Oatlands.  With the idyllic farm backdrop and becoming entranced by the harmony between the highly-trained dogs and wiley sheep, Wendy vowed she would do that someday. In 1996, she purchased her first herding-bred border collie and began the arduous process of learning to herd sheep; having no farm, no sheep, with only weekly lessons to guide her.  Wendy was persistent and even helped to manage the sheep flocks of friends just to get the chance to train her dogs for the sport of sheepherding competitions.
A lifelong Michigan resident, Wendy earned a BS in Microbiology and Biochemistry at Eastern Michigan University but soon moved into the financial field, earning an MBA from the University of Michigan and obtaining post-graduate education as a Certified Financial Analyst.  Wendy worked as a Block Equity Trader, negotiating the purchase and sale of millions of shares of stock for pension fund and mutual fund clients.  After the closing bell, Wendy would rush home to take her dogs to the nearest farm to herd sheep.
After the tech bust of 2000, Wendy transitioned out of investments and into self-employment; leveraging her dog training expertise and business knowledge to launch Gooseworks, LLC, in partnership with her husband, Kirk Mehlhaff. Gooseworks, LLC provides Canada Goose control services to clients throughout the State of Michigan, using trained border collies to chase geese off corporate properties.  Kirk and Wendy have built the business into a full-time enterprise, employing 6 dog handler teams.  Now in their 20th year, Wendy and Kirk are training their 3rd generation of dogs for goose control and have a planned litter on the way.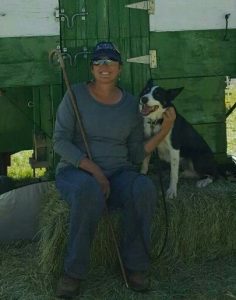 In 2008, Wendy and Kirk took the leap and purchased their own farm in Ingham County.  The farm grew quickly to accommodate 75 ewes and transition from spring pasture lambing to an accelerated lambing operation. In that period, Wendy also raised hogs, turkeys, meat chickens, tended a vegetable garden, and hand-milked a beloved Jersey cow named Jezebel. It would be easy to say that the love of all things farming overtook her. Wendy took an interest in managed grazing and structured her farm to be as nimble as possible, in order to take advantage of any grazing opportunities that were presented.  Along with the prolific, out of season breeding capabilities of her flock, Wendy endeavored to find a profitable, sustainable way to raise as many lambs as possible on a small farm with very little infrastructure.
Wendy gained almost all her sheep knowledge through her participation with the Michigan Sheep Producer's Association. She credits the MSPA Symposium for offering high-quality producer oriented content, along with the ability to connect with other producers in her area.  Wendy also participated extensively with the "Sheep for Profit" seminars put on by Richard Ehrhardt along with members of the MSPA who opened their farms for tours and instruction.  As a new producer, it is easy to get overwhelmed by the amount of information one must quickly master to set up a new enterprise.  The MSPA does a wonderful job of mentoring new producers.
Feeling the need to give back to the MSPA, Wendy served on the board for 2 years, focusing on the introduction of technology in order to streamline executive functions.  Wendy also serves on the board of the Ingham County Farmland and Open Space Preservation Board.  After a health scare in 2018, Wendy has scaled back her farming activities and now concentrates on taking her border collies to the highest levels of sheepherding competition.