Anthony Wernette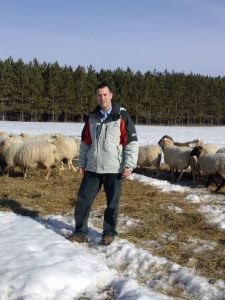 Tony Wernette has been helping his father raise sheep for as long as he can remember. They are truly apart of his family's traditions and culture. Tony shares that raising sheep can be a constant challenge but keeps life interesting. He appreciates the perspective it brings to his life and keeps him grounded.
Tony graduated with a bachelors of science from Michigan State University. After graduation, Anthony worked for the Michigan Agriculture Environmental Assurance Program (MAEAP). The MAEAP program is a voluntary program that Michigan farmers can take part in to have their operations "environmentally verified" by following and documenting Generally Accepted Agriculture Management Practices (GAMMPS). Anthony worked for the MAEAP program for six years before taking over the farm full time. Today Tony raises a flock of commercial ewes for lamb and wool production.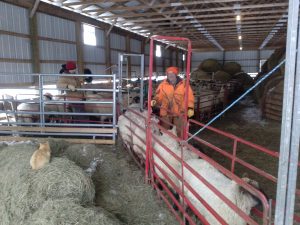 Michigan Sheep Producers Association has been a key player in Tony's successes throughout the years. Tony claims that the organization has been just as close to his story as his church parish is. He believes that the members are always eager to help and truly care about one another. It is a "very strong network" that he truly cherishes. there along the way.
Jim Bristol & Family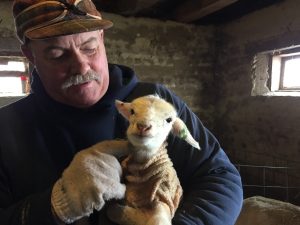 Jim Bristol has been raising sheep since he was a Michigan 4-H'er at the age of ten. He started a purebred Suffolk flock at the age of 13 with three bred ewes purchased from a longtime Michigan sheep breeder. He grew his flock throughout his years in 4-H and the National FFA Organization, previously known as Future Farmers of America. "Working on my business is my daily routine; I promote sheep, shearing, lamb and wool because my family and I are dedicated to agricultural growth. We kind of want to be a one stop shop for people –breeding stock, animal handling equipment, farm fence, quality feed and meat."
In 1983, Jim and his wife Sherrie moved to Vermont, where he managed Fern Cobble Farm, specializing in wholesale and retail cuts of lamb to supply to meat markets and restaurants throughout the state. While working in Vermont, he established his sheep shearing business.
Every year the shearing business grew and in 1988, Jim and Sherrie moved back to Michigan to continue their own sheep business. "Shearing was away to build my sheep business. Every day I worked with my friends, for my friends. I saw what other producers do to improve the sheep industry." While he's retired from commercial shearing now, he still enjoys producer comradery and mentorship.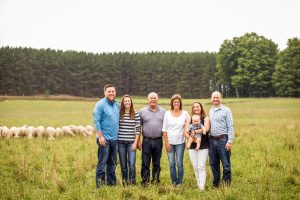 The couple has been longtime involved members of the Michigan Sheep Producers Association, and help plan and facilitate the Northern Michigan Lamb and Wool Festival. They have represented the industry at countless American Sheep Industry Association meetings, including legislative trips, and Jim served on the American Wool Council (chairperson for three years) for six years. Jim also was the chairperson of the sheep shearing taskforce to improve and promote sheep shearing training across the U.S., and helped establish the American Sheep Shearers Council to train, educate and promote shearers and wool handlers and represent U.S.A. sheep shearing at world events. He is a board member of Mid-States Wool Growers Cooperative Association, which strives to be on the cutting edge of sheep-producer service.
Jim and Sherrie now have more than 400 Polypay/Targhee crossbred sheep on a primarily pasture-based farm system. They entered into a formalized business structure, Great Lakes Lamb LLC, with their daughter Elaine (and husband Rick Palm) in 2019. Their older daughter, Brigette, works for Smithfield in Smithfield, Virginia, where she and her husband Ed are raising their family.
Photo Credit: Meg Sprague Photography