Submission Guidelines:
An ad for the newsletter and webpage can be submitted by mail or email to:
Sheryl Oswalt,
16029 S 33rd St,
Vicksburg, MI 49097
(269-330-2529)
misheepeditor@yahoo.com
and paid for by a mailed check.
classified ads can be 30 words or less
Advertising Rates:
Member
Non-Member
Full page:
$95.00
$100.00
Half page:
$55.00
$60.00
Quarter page:
$32.00
$35.00
Business card:
(4 issues)
$22.00
$25.00
Classified ad:
$8.00
$10.00
LGD Puppies for Sale – Purebred Great Pyrenees
Posted: December 8, 2018
LGD Puppies for Sale – Purebred Great Pyrenees. The sire was imported from France.  Born Nov. 17th, $750 – Parents are on our farm. Shamrock Station, Carleton, Please call Jim DeSana 734-626-1166 (M)
Livestock Guard Dogs For Sale
Posted: November 20, 2018
Livestock Guard Dogs For Sale:  3/4 Anatolian Shepherd, 1/4 Great Pyrenees, 4 males & 1 female, $550 each.  Born Sept 7th, have 1st shots.  No Sunday calls please.  (906) 353-7121 Larry and Beulah Kropf.   
New home needed for a blue heeler/ Australian shepherd
Posted: October 24, 2018
New home needed for blue heeler/Australian shepherd mix. 1-year old. Highly intelligent and energetic. No herding experience. Contact Paul Costanzo at paulcostanzo3@gmail.com or (810) 887-9080. 
For Sale: Border Collie Puppies
Posted: October 2, 2018
FOR SALE: Border Collie puppies. black and white with beautiful markings,  born on July 21st.  All have had vet exam, shots and have been wormed.  $300/female, $250/males.  Contact Kendall Nash 517-523-3179.
United Producers Sale Dates
Posted: September 23, 2018
Bristol Lamb & Hay
Posted: September 23, 2018
Pine Lane Farm Karakuls
Posted: July 15, 2016
United Producers – Sheep Supplies
Posted: April 4, 2016
Pickle Street Veterinary Services
Posted: April 4, 2016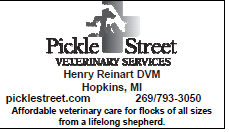 Never Say Never Farm
Posted: April 4, 2016