The Michigan Sheep Producers Association would be glad to arrange for a mentor for a new or established sheep producer.  This person can provide encouragement and guidance based on extensive personal experience in dealing with the many aspects of sheep production.
If you would like help from a Mentor, please look at the map below to determine the region in which you are located and then refer to the following chart for a contact person in your region.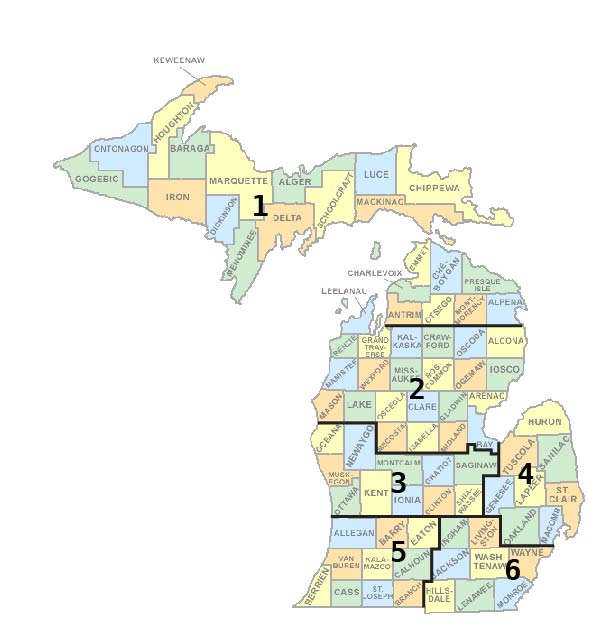 Region 1 – Upper Peninsula & Upper Mitten
Ben Bartlett
N4632 E T Road
Traunik, MI 49891
906-439-5210 (h)
906-630-5644 (c)
bndbartlett@tds.net

Larry & Sarah Hagadorn
11934 M-32E
Johannesburg, MI 49751
989-731-4160
lshagadorn@yahoo.com
Region 2 – Northern Michigan

 Brett Pharo
12266 Cherry Ave.
Rapid City, MI 49676
231 -322-2017
Jim Bristol
589 East Ogemaw Center Road
West Branch, MI 48661
989-685-3045
miwoolman@yahoo.com
 Region 3 – West/central
Tyler Martin
2414 18 Mile Road
Barryton, MI 49305
989-506-0300
Mart1298@frontier.com
Karen Scovill
9877 W. Britton Rd
Laingsburg, MI 48848
517-651-6860
scovillsheepcity@wowway.com
Region 4 – Thumb area
Cameron Lauwers
3148 Harvey Rd.
Capac, MI 48014
810-627-0608
cameronlauwers@gmail.com
Region 5 – Southwest
Letty Klein
6881 N Sprinkle
Kalamazoo, MI 49004
269-381-0980
lettykk@aol.com
Heather Ludlam
51 130th Ave
Hopkins, MI 49328
269-793-7311
drhludlam@gmail.com
Region 6 – Southeast
Contact Maury Kaercher,  kaercher@msu.edu, if you need help getting a mentor.

Want to Become a Mentor
What does it take to be a good mentor? It takes the desire and ability to share ideas, knowledge and perspectives in interesting ways. One doesn't need to be a professional to do this. Anyone can be a good mentor by sharing experiences – successes and failures – through stories and anecdotes; thereby offering insights that can only come from experience. Mentors need to have a desire to help, a positive outlook and a sense of humor, and most importantly be a good listener.
Contact a MSPA Board Member or Maury Kaercher,kaercher@msu.edu, if you are interested in being a mentor.