Cassie Perrin
Cassie Perrin is the recent recipient of the 2018 State 4-H Sheep Science Award. Cassie is from Coopersville, Michigan and is currently pursuing a degree in Agriculture Education at Western Illinois University. She recently graduated from Black Hawk College where she was a member of the livestock judging team. Cassie has spent much of her life showing and raising both sheep and goats. She has shown at local, state, and national levels of competition.
The senior level State 4-H Award is one of the highest awards that a 4-H member can receive. The process to receive this award not includes completing a lengthy application and detailed records of a members 4-H experience and sheep project, but also an interview portion that takes place during the Michigan 4-H Exploration Days.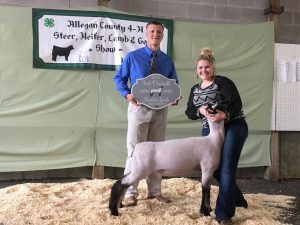 Cassie contributes her years of experience in both the Michigan 4-H and FFA organizations for her success over the years, and in helping her to prepare for the award process this year. The knowledge that she has gained in the classroom, as well as through her various projects and supervised agricultural experiences are invaluable. These experiences are also what she believes has helped her realized her passion for teaching agriculture.
In the future, Cassie hopes to remain an active member of the sheep industry. Specifically, she hopes to remain most involved through her path of education and not only educate her future students, but also continue to advocate for sheep health and welfare among the public. Congratulations, Cassie! MSPA is proud to sponsor this award and excited to see what you will bring to our organization in the years to come.
Dick & Betty Seeyle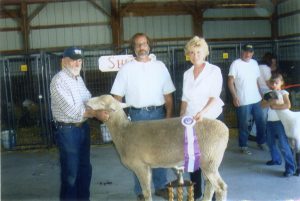 A "lifetime of sheep" would describe Dick and Betty Seelye's involvement in the industry. Along with their two daughters and four grandchildren, they feel that sheep are truly their life passion.
            Dick and Betty began their married life and involvement in the sheep industry in 1974 as shepherds on the Barton Farm in Plainwell, Michigan., where they raised, cropped, and showed sheep across the nation and Canada.  On the side, they also started a small Columbia flock with the purchase of a Larsen-Oleson ewe from Sedalia, Missouri. Next, they added Hampshires from Kirlin Hampshires in Milton, Indiana. Soon, Dick and Betty wanted to act on the dream of owning their own place and sheep spread; an old farm in Hersey, Michigan became home in 1980.
Betty says that nothing prepares you for the sacrifice and hard work of a farm. Two children soon joined their union and the Seeyle's found themselves in the midst of a very interesting and happy life. They became 4-H leaders of the only sheep club in Osceola County and built the sheep program at local fairs. Their own children became involved and as their older daughter states "Fairs were the only culture we had!"  There were three fairs in the area, so the girls showed dairy, sheep, and hogs, not to mention rabbits, meat chickens and a few beef cattle.
Meanwhile, the Seeyle's dominated the Columbia show, of which was the largest breed show, for many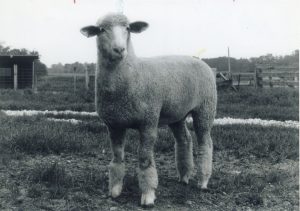 years, during the 1980's at the Michigan State Fair in Detroit. Once the kids began school, they had to choose between showing and their schooling. They chose the schooling, of course, but remained very active in the 4-H community. Betty credits 4-H in that it helped establish their children's' character and taught them that success comes to those who work hard. Today, the Seeyle's have had club lambs and held a club lamb sale for over thirty years. Currently, they utilize Slack and AcModdy genetics.
Betty works full time at the local United Way, while Dick holds the farm operations down. Their sheep numbers are half of what they once were and they only lamb the Columbia's in the spring as we no longer show nationally. They have developed a freezer lamb trade along the west coast of Michigan and continually promote the mild, delicious and easily digestible product that is lamb.
To the Seelyes, MSPA continues to be the united front in the promotion and awareness of such a great product. The Seelyes received the Purebred Sheep Producers Award in 1984 and the Club Lamb Producers recognition in 2017. Our operation has always benefited from the informative articles in the newsletter and the general feeling of what a special type of livestock and people we have committed our lives to. They feel that "we are all in this together and hopefully will continue to endure and prosper with sheep.