Dick & Betty Seeyle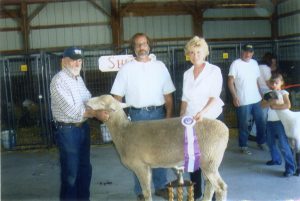 A "lifetime of sheep" would describe Dick and Betty Seelye's involvement in the industry. Along with their two daughters and four grandchildren, they feel that sheep are truly their life passion.
            Dick and Betty began their married life and involvement in the sheep industry in 1974 as shepherds on the Barton Farm in Plainwell, Michigan., where they raised, cropped, and showed sheep across the nation and Canada.  On the side, they also started a small Columbia flock with the purchase of a Larsen-Oleson ewe from Sedalia, Missouri. Next, they added Hampshires from Kirlin Hampshires in Milton, Indiana. Soon, Dick and Betty wanted to act on the dream of owning their own place and sheep spread; an old farm in Hersey, Michigan became home in 1980.
Betty says that nothing prepares you for the sacrifice and hard work of a farm. Two children soon joined their union and the Seeyle's found themselves in the midst of a very interesting and happy life. They became 4-H leaders of the only sheep club in Osceola County and built the sheep program at local fairs. Their own children became involved and as their older daughter states "Fairs were the only culture we had!"  There were three fairs in the area, so the girls showed dairy, sheep, and hogs, not to mention rabbits, meat chickens and a few beef cattle.
Meanwhile, the Seeyle's dominated the Columbia show, of which was the largest breed show, for many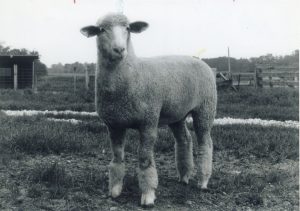 years, during the 1980's at the Michigan State Fair in Detroit. Once the kids began school, they had to choose between showing and their schooling. They chose the schooling, of course, but remained very active in the 4-H community. Betty credits 4-H in that it helped establish their children's' character and taught them that success comes to those who work hard. Today, the Seeyle's have had club lambs and held a club lamb sale for over thirty years. Currently, they utilize Slack and AcModdy genetics.
Betty works full time at the local United Way, while Dick holds the farm operations down. Their sheep numbers are half of what they once were and they only lamb the Columbia's in the spring as we no longer show nationally. They have developed a freezer lamb trade along the west coast of Michigan and continually promote the mild, delicious and easily digestible product that is lamb.
To the Seelyes, MSPA continues to be the united front in the promotion and awareness of such a great product. The Seelyes received the Purebred Sheep Producers Award in 1984 and the Club Lamb Producers recognition in 2017. Our operation has always benefited from the informative articles in the newsletter and the general feeling of what a special type of livestock and people we have committed our lives to. They feel that "we are all in this together and hopefully will continue to endure and prosper with sheep."
Jim & Claudia Chapman
Jim Chapman and his wife, Claudia were born and raised in Howell, Michigan.  Jim's parents had a commercial flock of about 100 ewes. Claudia and her family raised beef cattle. After high school, Jim and Claudia both left Howell to attend college at Central Michigan University (CMU). Upon graduation from CMU, Claudia became an elementary school teacher and Jim worked for the Department of Natural Resources.  In 1982, the two purchased a farm in the Alpena area.  It didn't take too long for them to start a small sheep flock.
Jim and Claudia had three children. While their son was more of a sports enthusiast, their two girl girls became involved with all things sheep: 4H, FFA, and fairs.  Today, their farm consists of 85 acres of owned property and about 150 acres of leased land.  For a period, the Chapmans phased out sheep completely and transitioned into back into beef cattle production. When Claudia retired about 12 years ago, however, she wanted a farm project so the Chapmans got back into sheep and reduced their beef herd.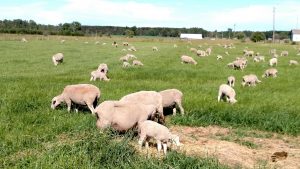 They chose to raise Polypay ewes as a dual-purpose breed. The Chapmans also enjoy using Polypay genetics because of the out of season breeding, disposition, and size of the sheep. They try to keep about 100 ewes, at least one Polypay ram, and three other rams as terminal sires.  They keep their ewes and lambs on pasture until weaning in August or September. Their lambs are then in a feedlot situation until the West Branch lamb pool in late November. Today, the Chapmans' finish a few lambs for their local freezer market and keep some replacement ewes to sustain their flock.
This past January, Jim and Claudia Chapman were named the Michigan Sheep Producer Association's Commercial Producers of the Year. Although the Chapmans love the sheep industry, they credit that it's the people they have met that have kept them engaged for so long. They have enjoyed attending Shepherd's Weekend,  helping new people get started,  and staying in touch with old friends throughout their years of involvement with MSPA.