Jim & Claudia Chapman
Jim Chapman and his wife, Claudia were born and raised in Howell, Michigan.  Jim's parents had a commercial flock of about 100 ewes. Claudia and her family raised beef cattle. After high school, Jim and Claudia both left Howell to attend college at Central Michigan University (CMU). Upon graduation from CMU, Claudia became an elementary school teacher and Jim worked for the Department of Natural Resources.  In 1982, the two purchased a farm in the Alpena area.  It didn't take too long for them to start a small sheep flock.
Jim and Claudia had three children. While their son was more of a sports enthusiast, their two girl girls became involved with all things sheep: 4H, FFA, and fairs.  Today, their farm consists of 85 acres of owned property and about 150 acres of leased land.  For a period, the Chapmans phased out sheep completely and transitioned into back into beef cattle production. When Claudia retired about 12 years ago, however, she wanted a farm project so the Chapmans got back into sheep and reduced their beef herd.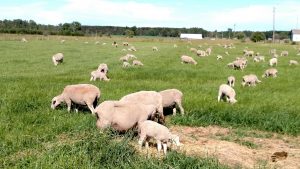 They chose to raise Polypay ewes as a dual-purpose breed. The Chapmans also enjoy using Polypay genetics because of the out of season breeding, disposition, and size of the sheep. They try to keep about 100 ewes, at least one Polypay ram, and three other rams as terminal sires.  They keep their ewes and lambs on pasture until weaning in August or September. Their lambs are then in a feedlot situation until the West Branch lamb pool in late November. Today, the Chapmans' finish a few lambs for their local freezer market and keep some replacement ewes to sustain their flock.
This past January, Jim and Claudia Chapman were named the Michigan Sheep Producer Association's Commercial Producers of the Year. Although the Chapmans love the sheep industry, they credit that it's the people they have met that have kept them engaged for so long. They have enjoyed attending Shepherd's Weekend,  helping new people get started,  and staying in touch with old friends throughout their years of involvement with MSPA.
Alan Culham
The Culham & Stevens flock was established in 1961 with the first lambs registered in 1962. A partnership was formed in 1984 between Alan Culham & Morrie Stevens that remains in existence to this day. In 1988 the flock enrolled in the National Sheep Improvement Program (NSIP) and currently has had over 2,400 head with genetic evaluations.
With growth rate being a primary selection criterion the Culham and Stevens flock has emerged as the premier source for Suffolk growth genetics in the world. Just to support that claim Culham & Stevens 5BR155 sired in 2008 the unchallenged world's fastest growing sheep at Michigan State University, MSU 8130 a ram lamb, had and actual 120 day weight of 203.5 pounds.
The 2017 Culham & Stevens lambcrop had an average post weaning (120 day) estimated breeding value (EBV) of 10.1 kg (22.2 lbs.). Included in this group were the top nine individuals of the entire NSIP Suffolk breed lambcrop of 2017 (nearly 1500 head recorded). Additionally Culham & Stevens has maintained a positive genetic trend for eye muscle depth (EMD) while eliminating the gene for Spider Lamb Syndrome as well as obtaining an almost exclusive RR scrapie genotype at codon 171.
Most recently, Alan Culham was recognized as the 2018 Purebred Producer of the Year by the Michigan Sheep Producers Association. We'd like to recognize Alan, as well as Morrie, for their commitment to the Michigan sheep industry over the years!