Matt Scramlin
Matt Scramlin was elected Vice President of the MSPA at the January meeting. Matt comes to us from Oakland County. Now living on the family farm in Holly, Michigan Matt finds himself loving what he does. His dad and Uncle were dairy farmers. Mom had sheep. So, when Matt was three years old, they got sheep. Starting first with Dorsets and Cotswold sheep, adding Montadales in the early 80's. It seems that Southdowns found their way to the Scramlin Farm when Matt's sister Stacy was ready for 4-H and she decided to try a breed of her own; 30 years later it's the breed that the family specializes in.
While other kids were going to summer camp and up North for vacations, Matt and his sisters, Stacy and Lisa, found themselves competing in sheep shows in 8 county fairs as well as State and National shows. That was family time for the Scramlins. Not only did their family find it great quality time together with family and friends it was a source of income for the youth. In 2002, Matt graduated from Michigan State University with a degree in Animal Science; paid for with money he had earned showing sheep. Growing up with family friends and a college roommate in the auction business, Matt also pursued his interest in auctioneering. He graduated from Reppert's School of Auctioneering in 2002.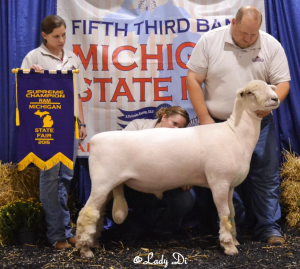 Out of college, Matt found work at Michigan Farm Bureau as a Regional Representative. He later moved to Washington, D.C. to take a position with American Farm Bureau as their leadership development trainer. In 2011, he made the decision to return to Michigan and the family farm. Today Matt has a flock of 55 purebred Southdown ewes and an additional 30 commercial ewes. Along with the sheep, Matt helps his cousin putting up 800 acres of hay and straw.
For many years he has been active with the Oakland County Farm Bureau and their Project Red event; a two-day event that draws several hundred school children each year. Matt's parents remain very active in the new Michigan State Fair. Matt sells hay and straw there and also narrates the sheep shearing demonstrations. He also finds himself judging National and International sheep shows. He loves working with kids and sharing his knowledge of the animals with local youth. His favorite judging event so far has been judging at the North American International Livestock Exposition (NAILE) in Louisville, Kentucky where the brightest and best young showman compete. He's looking forward to going to California in August to judge his first sheep show at the oceanside.
His interest in MSPA comes from growing up in the industry and looking forward to attending the Sheep Symposium each year and recognizing the value of membership. He feels the best way to get the most value from an organization is to be involved. While he's clearly passionate about working with youth in agriculture, he looks forward to helping with several facets of the organization while on the Board. Matt is sure to be an asset to our organization as he continues to show sheep both in Michigan and Nationally. He's looking forward to show season where he can spend time with family including his two nieces and two nephews.
Cassie Perrin
Cassie Perrin is the recent recipient of the 2018 State 4-H Sheep Science Award. Cassie is from Coopersville, Michigan and is currently pursuing a degree in Agriculture Education at Western Illinois University. She recently graduated from Black Hawk College where she was a member of the livestock judging team. Cassie has spent much of her life showing and raising both sheep and goats. She has shown at local, state, and national levels of competition.
The senior level State 4-H Award is one of the highest awards that a 4-H member can receive. The process to receive this award not includes completing a lengthy application and detailed records of a members 4-H experience and sheep project, but also an interview portion that takes place during the Michigan 4-H Exploration Days.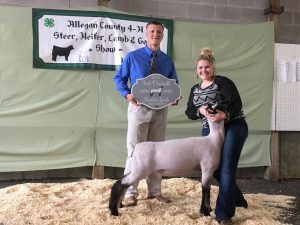 Cassie contributes her years of experience in both the Michigan 4-H and FFA organizations for her success over the years, and in helping her to prepare for the award process this year. The knowledge that she has gained in the classroom, as well as through her various projects and supervised agricultural experiences are invaluable. These experiences are also what she believes has helped her realized her passion for teaching agriculture.
In the future, Cassie hopes to remain an active member of the sheep industry. Specifically, she hopes to remain most involved through her path of education and not only educate her future students, but also continue to advocate for sheep health and welfare among the public. Congratulations, Cassie! MSPA is proud to sponsor this award and excited to see what you will bring to our organization in the years to come.