James & Donna Averill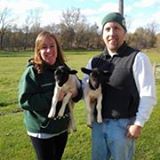 James and Donna Averill of Webberville, MI (Ingham County) have been members of the Michigan SheepProducers Association since 2012.  In 2012 they purchased their first Dorper ewe, which became the foundation ewe for their farm, Willowcreek Farm.  Today their flock consists of 20 mature ewes, replacement ewes, and several rams. Their mission is to produce sound, productive sheep for the farm and show ring.  Raising sheep is a hobby for James and Donna, both have full time jobs.  Donna is a licensed veterinary technician at Michigan State University Veterinary Medical Center, specializing in ophthalmology.  James is our state veterinarian and the Director of the Animal Industry Division at the   Michigan Department of Agriculture and Rural Development.
Both James and Donna were born and raised in New England. Donna is from Rhode Island and has always dreamed of owning a farm with animals, and James is from Maine and grew up on a dairy and sheep operation. After purchasing their small farm in 2010 the question they were faced with was which breed of sheep they should raise? James has always had a soft spot for Hampshires as he raised and showed them growing up. However, Donna had other plans. She had been introduced to the Dorper breed when a small group of them were brought into the veterinary medical center. Donna was instantly taken by this smaller stature sheep with a distinct black head. This was the breed she wanted, she now needed to convince James. They proceeded to educate themselves about the breed and learned Dorpers are a moderate framed sheep imported from South Africa in mid 1990s that shed their fiber, so no need to shear.  They are an easy keeping breed of sheep, excellent mothers, and heavily muscled. This fairly new breed to the United States seemed intriguing to James. Donna got her wish, Dorpers it was!  Initially, the Averill's goal was to raise sheep to meet the freezer lamb market.  That was quickly short lived because James realized how much he missed the show ring, comradery, and friendly competition with other sheep breeders.
James and Donna spend the spring and summer attending major sales and shows sanctioned by the American Dorper Sheep Breeders Society and in November exhibit at the North American International Livestock Exposition.  In 2016, they exhibited the Reserve Champion Dorper Ewe.  They have had success in the show ring and in selling their genetics across the country, and Canada.
The Averill's recognize that the show ring is not the only place a sheep producer can have an impact.  They strongly believe in breeding functional and productive sheep to meet commercial and purebred sectors and this has led to their ability to sell rams to commercial producers.  Dorpers are proving to be an effective breed for the commercial industry, as they have a lean and tender carcass and able to convert almost any forage to a protein.
The future of the sheep industry and the next generation of shepherds is something both the Averill's are extremely passionate about.  They spend countless hours annually working with youth, and sharing their experiences and knowledge.  The one event they never miss is the Youth Program at Michigan Sheep Producers Association Shepherds Weekend.  They love interacting with the many kids that attend.  Watching the children learn, and engage in the educational sessions is one of the highlights of the weekend. They look forward to seeing the same kids return year after year as they grow, and in turn share their knowledge with the younger and newer members. Many of these young shepherds have a special place in the Averill's hearts….in some ways they have become their adopted kids.
If you happen to meet or see James and Donna they are happy to chat about sheep and more specifically Dorpers.  They are always willing to help fellow shepherds and share their experiences.
Jan & Mick Swihart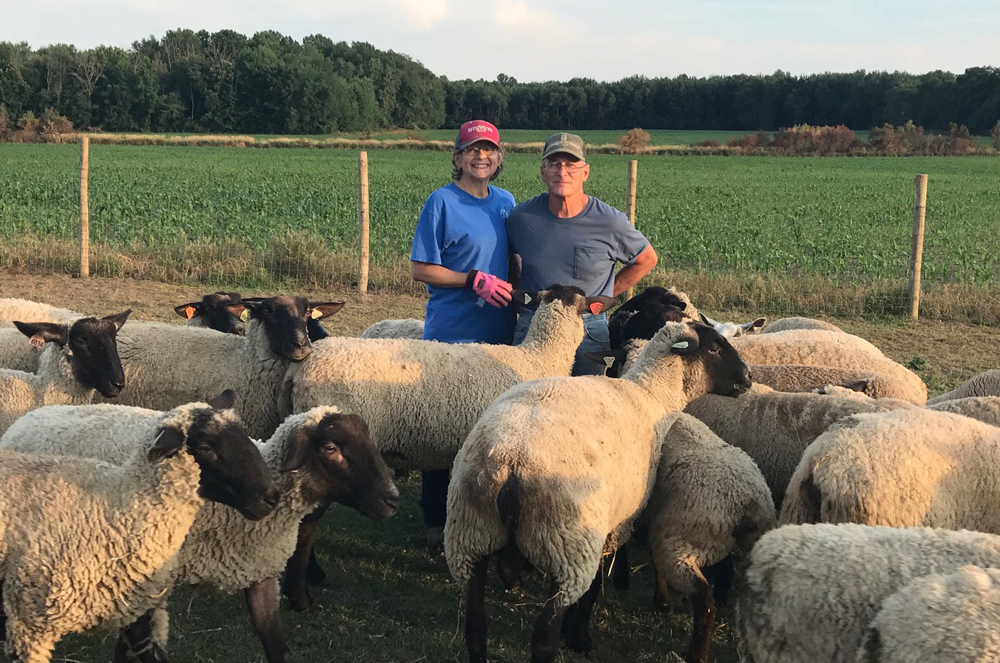 Mick and Jan Swihart of Fulton MI (Kalamazoo County) started raising sheep in 1984 when their children were given a bottle lamb at Easter. Slowly, they added a few more lambs and later purchased a flock of Corridale, Dorset, Finn and Suffolk ewes.
When their three children began showing in 4-H, the breeding program shifted from commercial wool breeds, to black-faced ewes to make them more competitive in market lamb shows. They enjoyed showing at county, state and national shows. Swihart's purchase purebred rams and ewes from the Mid-West Stud Ram Sale and purebred ewe sales at NAILE.
In 1989, Swihart's started selling their market lambs to neighbor kids to show at the county fair. This process has expanded to hosting an annual private treaty lamb sale at their farm every April. Mick and Jan take the time to teach new buyers what to look for in selecting a market lamb. They feel that hands-on learning is the best approach and offer showmanship clinics at the farm in the summer months. They also assist buyers with shearing, nutritional advice and veterinary care. This unique service after the sale approach keeps buyers coming back year after year. Last year they sold market lambs to 10 different county fairs and went to watch their lambs compete in each of those fairs. Supporting their customers is important to their business.
Swihart's currently own 75 crossbred, Hampshire, Suffolk ewes. Mick and Jan serve as lamb project leaders for their local 4-H club in Kalamazoo County. They are members of the Michigan Sheep Producers Association, Michigan Club Lamb Association, Michigan Farm Bureau, Vicksburg Agriscience Committee, Battle Creek Farm Bureau Co-op and Fulton Christian Church.