Jan & Mick Swihart
Mick and Jan Swihart of Fulton, MI (Kalamazoo County) started raising sheep in 1984 when their children were given a bottle lamb at Easter. Slowly, they added a few more lambs and later purchased a flock of Corridale, Dorset, Finn and Suffolk ewes.
When their three children began showing in 4-H, the breeding program shifted from commercial wool breeds, to black-faced ewes to make them more competitive in market lamb shows. They enjoyed showing at county, state and national shows. Swihart's purchase purebred rams and ewes from the Mid-West Stud Ram Sale and purebred ewe sales at NAILE.
In 1989, Swihart's started selling their market lambs to neighbor kids to show at the county fair. This process has expanded to hosting an annual private treaty lamb sale at their farm every April. Mick and Jan take the time to teach new buyers what to look for in selecting a market lamb. They feel that hands-on learning is the best approach and offer showmanship clinics at the farm in the summer months. They also assist buyers with shearing, nutritional advice and veterinary care. This unique service after the sale approach keeps buyers coming back year after year. Last year they sold market lambs to 10 different county fairs and went to watch their lambs compete in each of those fairs. Supporting their customers is important to their business.
Swihart's currently own 75 crossbred, Hampshire, Suffolk ewes. Mick and Jan serve as lamb project leaders for their local 4-H club in Kalamazoo County. They are members of the Michigan Sheep Producers Association, Michigan Club Lamb Association, Michigan Farm Bureau, Vicksburg Agriscience Committee, Battle Creek Farm Bureau Co-op and Fulton Christian Church.
Wayne Barber & Rich Fitz
Ugly Dog's Farm is owned by Wayne Barber and Rich Fitz.  Their farm originally started as a hobby farm with only a few riding horses.  In the early 2000's they stopped by area sheep farm at lambing time.  Sheep had never been thought of being a part of the farm, but the character of the animals they saw that day, was enough to have them bring home two Suffolk lambs later that spring.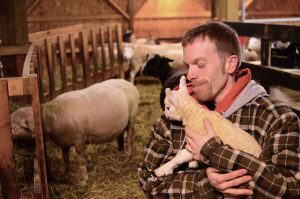 Shortly thereafter, Wayne and Rich had the opportunity to purchase a few Border Cheviots.  The less input and easy care characteristics of the Border Cheviot quickly proved ideal for their small operation and the Suffolks were phased out.  A small and loyal customer base for our lambs and slowly found a market for our classic Border Cheviot breeding stock as well.
In the meantime, wool also became a passion and while the medium grade Cheviot wool was wonderful for socks and outer wear, a fine wool option was sought out to add to the flock. The Merino was our choice of breed, and to set ourselves apart, we chose to go the natural colored route.  The majority of their Natural Colored Merino genetics originate from the Mendenhall Wool Ranch in California.
Owning stock that were proven in the lambing barn and in the pasture, however, has always been a priority. By the mid 2000's, the modern Border Cheviot trends were no longer meeting the priorities of Wayne and Rich's flock and they began to look for a suitable replacement. Eventually, the Clun Forest would be their breed of choice. The Clun has performed very well at Ugly Dog's Farm, and Rich has become very involved with the North American Clun Forest Association, serving for a term as Vice President and recently taking on the role of Secretary/Treasurer.
Today, they have sold breeding stock throughout both the United States and in Canada, and continue to sell both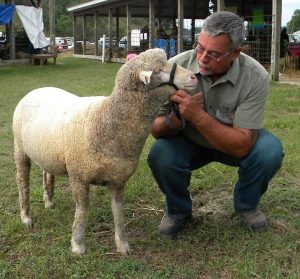 lamb and wool off their farm. As avid fiber artists, an arts and fine craft show is held at Ugly Dog Farm in September that features over fifteen individual artists. Wayne and Rich also enjoy mentoring and educating people on sheep and wool and how they raise and process their superior products.
Wayne and Rich have been members of the Michigan Sheep Producers Association for over 10 years and they credit it as a "huge resource" for them. They especially value the symposiums and newsletters as they "are always highly educational and the friendships we have forged as a direct result of the organization have been invaluable over the years.