Judy Moore
Judy Moore was born the daughter of a showman.  She grew up on large diverse farm in Mid-Michigan.  They had hogs, cattle and sheep.  Her family was one of the first to bring Shorthorn cattle into Michigan.  Summers for Judy and her siblings meant helping dad show animals at County Fairs and other shows.  Sometimes showings 9-12 breeds at the same show; Judy remembers one year they placed in 12 breeds at the Michigan State Fair.  Not only did her father show their raised animals, he was paid to show for others.   Judy particularly remembers showing with her siblings at the Chicago International Show; a pre-curser to the Louisville Show.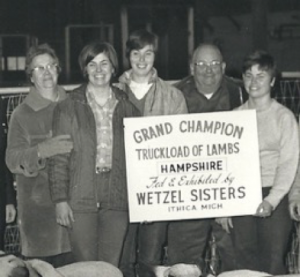 Judy met her husband John showing cattle at the Jackson County Fair.  When John and Judy were married, her father's offer was a gift of 5 bred ewes; they chose Hampshire's – not because they were her favorite but because she knew they were worth more money than the Cheviots!   They have had Hampshire, Southdown and Rambouillet just to name a few but are mainly Cheviot fans.
In addition to working with countless numbers of 4-H'ers and others interested in the sheep industry in Michigan, the Moore's have joined forces with poet and novelist Wendell Berry of Kentucky to start several flocks of Cheviots in Kentucky and in Texas.  Getting new families into the sheep industry has been a passion for Judy.  Some of her favorite memories of the early days of MSPA are of the Bred Ewe Sales.  In the day it was the largest and oldest sale around.  Judy credits Dr. Margaret Benson with being a driving force in growing Shepherd's Weekend.  Judy remembers Bill Finley and Graden Blank being very encouraging of having a career and having sheep.  Not only does Judy have a long list of accomplishments in the sheep industry, she is a retired Elementary School teacher that worked with at-risk children and specialized in reading.
Her teaching career allowed her to keep a busy summer schedule showing sheep, judging shows and sharing her passion of working with the sheep with others.  Judy credits her father for giving her the experience and confidence to judge both meat and fleece sheep without hesitation.  Along with judging county fairs and shows throughout the United States, she has judged in Mexico and Canada and also at two World Shows.  Judy and John also were active in Club Lamb Sales in Michigan.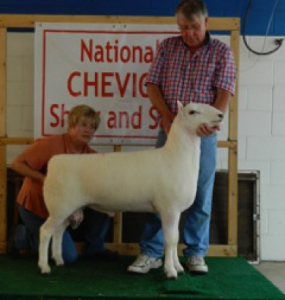 They were involved with sales in Clare and Mid-Michigan for 28 years.   All these experiences have allowed her the opportunity to form friendships with people from all corners of the map.  Although Judy's expertise will be missed in the position of Treasurer for the MSPA, I'm sure she will remain busy.   When we spoke, she was preparing to leave for the upcoming North American International Livestock Exposition in Louisville.   This show is billed as the largest all-breed purebred livestock event in the world.   Sounds like a place where Judy will feel right at home!
In closing, I want to thank Judy for her years of service to the MSPA and wish her nothing but success in her retirement.
Wayne Barber & Rich Fitz
Ugly Dog's Farm is owned by Wayne Barber and Rich Fitz.  Their farm originally started as a hobby farm with only a few riding horses.  In the early 2000's they stopped by area sheep farm at lambing time.  Sheep had never been thought of being a part of the farm, but the character of the animals they saw that day, was enough to have them bring home two Suffolk lambs later that spring.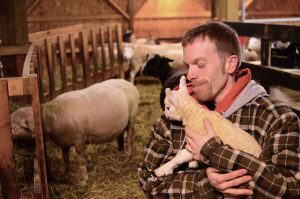 Shortly thereafter, Wayne and Rich had the opportunity to purchase a few Border Cheviots.  The less input and easy care characteristics of the Border Cheviot quickly proved ideal for their small operation and the Suffolks were phased out.  A small and loyal customer base for our lambs and slowly found a market for our classic Border Cheviot breeding stock as well.
In the meantime, wool also became a passion and while the medium grade Cheviot wool was wonderful for socks and outer wear, a fine wool option was sought out to add to the flock. The Merino was our choice of breed, and to set ourselves apart, we chose to go the natural colored route.  The majority of their Natural Colored Merino genetics originate from the Mendenhall Wool Ranch in California.
Owning stock that were proven in the lambing barn and in the pasture, however, has always been a priority. By the mid 2000's, the modern Border Cheviot trends were no longer meeting the priorities of Wayne and Rich's flock and they began to look for a suitable replacement. Eventually, the Clun Forest would be their breed of choice. The Clun has performed very well at Ugly Dog's Farm, and Rich has become very involved with the North American Clun Forest Association, serving for a term as Vice President and recently taking on the role of Secretary/Treasurer.
Today, they have sold breeding stock throughout both the United States and in Canada, and continue to sell both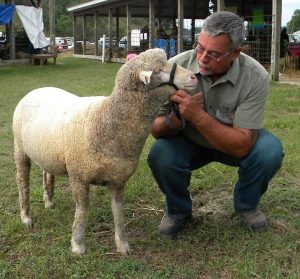 lamb and wool off their farm. As avid fiber artists, an arts and fine craft show is held at Ugly Dog Farm in September that features over fifteen individual artists. Wayne and Rich also enjoy mentoring and educating people on sheep and wool and how they raise and process their superior products.
Wayne and Rich have been members of the Michigan Sheep Producers Association for over 10 years and they credit it as a "huge resource" for them. They especially value the symposiums and newsletters as they "are always highly educational and the friendships we have forged as a direct result of the organization have been invaluable over the years.