Judy Moore was recently honored at the annual banquet of the MSU Block and Bridle Club as their person of the year.
"Judy was the Honored guest at the 2018 Michigan State University Block and Bridle Club Annual Recognition Banquet. Judy was nominated by and selected by the MSU Block and Bridle Club Members. Our honorees are people who have made an impact in Michigan agriculture, to the MSU Block and Bridle Club, or the Michigan State University Department of Animal Science. The club was honored to have a guest like Judy. Current students, Alumni, and some of Judy's closest friends and family enjoyed celebrating her honor, it is more than deserved."
Kimberly Jodoin,  Block and Bridle Club member
  Click here to learn more.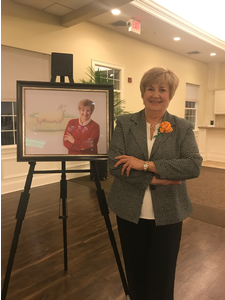 Judy Moore