Mission Statement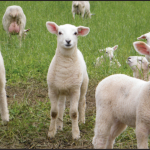 Our mission is to provide a unified voice for the Michigan Sheep Industry and to make it possible for the Michigan Sheep Industry to be a part of a dynamic national industry.
Membership Benefits
Continuing Education
Each year the Association sponsors a Sheep Symposium – a two day series of seminars and workshops highlighting new and old techniques, methods and information to help the sheep producer become a better shepherd.

News
A newsletter , prepared and distributed quarterly keeps members informed about news of value to them as members and as sheep producers.

Promotional Activities
Annually Michigan sheep producers raise and market thousands of lambs and tons of wool. Sheep provide many by-products that are used in various commercial products.The Michigan Sheep Producers Association (MSPA) is active in wool and lamb promotions so the public is aware of the importance of the industry to improve our market. MSPA does this through promotional activities at the new Michigan State Fair, local fairs and festivals, retail stores and many other activities throughout the state. MSPA works closely with both the American Sheep Industry (ASI) and the American Lamb Board (ALB) to cooperate in nationwide promotional, educational, lobbying and research efforts.
Youth Activities
The highlight of the year for young members of MSPA families is the Symposium Youth Program and Quiz Bowl/Master Shepherd Contest, Which is part of Shepherd's Weekend. The association is actively involved in youth activities, sponsoring awards at the state and local levels for 4-H and FFA sheep projects, participating in Junior Preview Show, among other activities. MSPA sponsors several college scholarships each year.
Social Events
Shepherd's Weekend is also a social event. Sheep producers throughout the state gather to learn and socialize at the popular family-oriented event. A summer picnic brings us together for food, fun and fellowship.
Membership
When you become a member of MSPA, you also become a member of ASI. You'll gain access to the resources of the national sheep organization and the monthly publication, The Sheep Industry News. ASI
also lobbies for producers within the sheep industry and links you to their research, information and legislative issues through their website, www.sheepusa.org.
Download or Print the Membership Brochure
Registration
(Note:  Dues received after September 2018 will be counted toward a 2019 membership}
To become a member, you can either download the membership form and mail it in, or register online and pay with PayPal.
View or Print the Membership Form or
fill in the following form to register and pay online.