Submission Guidelines:
An ad for the newsletter and webpage can be submitted by mail or email to:
Sheryl Oswalt,
16029 S 33rd St,
Vicksburg, MI 49097
(269-330-2529)
misheepeditor@yahoo.com
and paid for by a mailed check.
classified ads can be 30 words or less
Advertising Rates:
Member
Non-Member
Full page:
$95.00
$100.00
Half page:
$55.00
$60.00
Quarter page:
$32.00
$35.00
Business card:
(4 issues)
$22.00
$25.00
Classified ad:
$8.00
$10.00
Tunis Ewe Lambs For Sale
Posted: October 9, 2017
Several beautiful Tunis ewe lambs available for sale, born in April.  $300 each, possible discount for group sale.  Contact us for additional info and pictures.  Amy Crow, eways@frontiernet.net, (517) 254-4374.
Rams for sale
Posted: September 26, 2017
For Sale: 3 yr old 3/4 Dorper/cross Ram & a Hampshire Ram Lamb.
Both in very good condition.
Ewes and ewe lambs for sale
Posted: September 20, 2017
Retiring and cutting down on numbers.  Ewes from 2-6 years old.  Spring ewe lambs.  All from a 200 % flock.  No culls, only great ewes. Some North Country Cheviots, Dorset, Suffolk mixes and crosses.  Contact Larry Hagadorn, 989-731-4160, Ishagdorn@gmail.com
Polypay Rams For Sale
Posted: August 28, 2017
Purebred Polypay rams for sale in Dexter, MI from 2015, 2016, and January 2017 that are in the NSIP. The 2015 and 2016 rams are proven and registered. email: pdschloss@gmail.com
White Barn Romendales
Posted: April 1, 2017
United Producers Sales
Posted: September 2, 2016
Click here for a schedule of the United Producer sales.
Pine Lane Farm Karakuls
Posted: July 15, 2016
United Producers – Sheep Supplies
Posted: April 4, 2016
Mid-States Livestock Supplies
Posted: April 4, 2016
Pickle Street Veterinary Services
Posted: April 4, 2016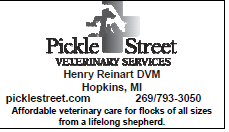 Never Say Never Farm
Posted: April 4, 2016
Bristol Lamb & Hay
Posted: April 4, 2016