Submission Guidelines:
An ad for the newsletter and webpage can be submitted by mail or email to:
Sheryl Oswalt,
16029 S 33rd St,
Vicksburg, MI 49097
(269-330-2529)
misheepeditor@yahoo.com
and paid for by a mailed check.
classified ads can be 30 words or less
Advertising Rates:
Member
Non-Member
Full page:
$95.00
$100.00
Half page:
$55.00
$60.00
Quarter page:
$32.00
$35.00
Business card:
(4 issues)
$22.00
$25.00
Classified ad:
$8.00
$10.00
Texel rams
Posted: November 26, 2017
Three Texel ram lambs looking for a new home;  born April 2017.  Call Dave at 989 463 2471.  Located near Alma, Michigan. $400 each.
Tunis Ewe Lambs For Sale
Posted: October 9, 2017
Several beautiful Tunis ewe lambs available for sale, born in April.  $300 each, possible discount for group sale.  Contact us for additional info and pictures.  Amy Crow, eways@frontiernet.net, (517) 254-4374.
Rams for sale
Posted: September 26, 2017
For Sale: 3 yr old 3/4 Dorper/cross Ram & a Hampshire Ram Lamb.
Both in very good condition.
Ewes and ewe lambs for sale
Posted: September 20, 2017
Retiring and cutting down on numbers.  Ewes from 2-6 years old.  Spring ewe lambs.  All from a 200 % flock.  No culls, only great ewes. Some North Country Cheviots, Dorset, Suffolk mixes and crosses.  Contact Larry Hagadorn, 989-731-4160, Ishagdorn@gmail.com
United Producers Sales
Posted: September 2, 2016
Pine Lane Farm Karakuls
Posted: July 15, 2016
United Producers – Sheep Supplies
Posted: April 4, 2016
Mid-States Livestock Supplies
Posted: April 4, 2016
Pickle Street Veterinary Services
Posted: April 4, 2016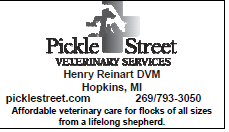 Never Say Never Farm
Posted: April 4, 2016
Bristol Lamb & Hay
Posted: April 4, 2016